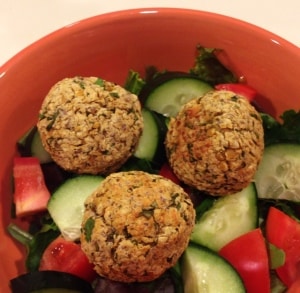 I love falafels, but I don't like what fried foods do to your health so I wanted a nutritious way to make them. I've stopped using oil in a lot of my recipes and I knew I could figure out this one as well. I didn't want to soak or fry them in oil, but still keep a great flavor! 
I've accomplished that along with filling them with ingredients that will give you a boost in antioxidants plus other nutritional benefits. My favorite part about them is they have detoxing properties! I'm still detoxing from the holidays so this is another recipe to incorporate with my other detox meals.
I didn't want these to be hard to make either. When I first thought about making falafels it was a little intimidating, but after doing it this way, I'll be baking them all the time! It's so easy to form them together. The longest part of this recipe is when they're in the oven. Even though these are baked, they still have a scrumptious flavor and a nice crunch to them as well.
I made a cashew tzatziki sauce to put on top of them. I definitely recommend having a sauce with them… I haven't tried it, but I think my healthy caesar dressing would be good with them! They're also delicious on top of a greek salad.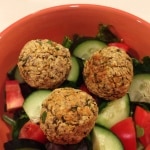 Print
BAKED FALAFEL BALLS
Please use all organic ingredients when possible!
Ingredients
1 1/2

cup

Garbanzo Beans

2

tbsp

Cilantro

chopped

2

tbsp

Parsley

chopped

3

Garlic Cloves

chopped

1

heaping tsp Cumin

1

heaping tsp Oregano

2

tbsp

Lemon Juice

2

tbsp

Ground Flaxseed
Instructions
Preheat oven to 375

Pulse the Garbanzo Beans in a food processor a few times until they are broken down pretty well

Add in the all the other ingredients except Ground Flaxseed and pulse again, mixing everything together

Put the mixture in a bowl and stir in Ground Flaxseed

Scoop mixture with a large spoon and form balls with your hands.

Place balls on baking sheet lined with parchment paper

Bake for 40 min (check the texture and if you want them crunchier you could leave in for another 5 min)

Let cool for 5 - 10 min. Serve and Enjoy!
BENEFITS OF THIS RECIPE:
Detoxing properties from the cilantro and parsley
Anti-inflammatory properties
Full of fiber and helps with weight-loss
Assists in lowering cholesterol, reducing risk of heart disease
Boosts immune system