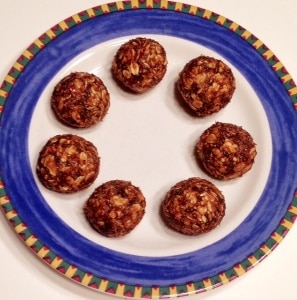 Last week I accidentally picked up an extra can of sweet potato puree so I decided to put a spin on my Pumpkin Energy Balls. I'm so glad I did because these turned out scrumptious! I love coming up with recipes like this because it adds an important vegetable into your diet, but tastes like dessert! Yes, there is sweet potato casserole that is like eating dessert, but this recipe is quick to make and no baking required!  It's great to give to kids (and adults) who are normally picky about eating veggies too! Just don't tell them what's in it! :)
You might be wondering why I decided to call these "Beautifying Balls" instead of the norm, "Energy Balls". Well, here are some of  the reasons. Sweet potatoes are a good source of Vitamin A, B, C, E and K. One sweet potato has 100% plus a little more of the daily recommended amount of Vitamin A.
So, why should you care that it has all these vitamins? For starters, Vitamin A (the body turns the Beta-Carotene into Vit A) has been shown to protect against sun damage. It also repairs cells that have already been damaged by UV Rays.  Most people know that Vitamin C helps boost your immune system, but did you know it also produces collagen which helps maintain skin's youthful elasticity and keeps you looking young by fighting off wrinkles!  When all of these vitamins are combined together it's a concoction to achieving and maintaing beautiful skin. Eat Up!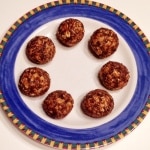 Print
Sweet Potato Energy Balls
Please use all organic ingredients when possible!
Ingredients
1/3

cup

Sweet Potato Puree

1/4

cup

Honey

or Maple Syrup

1/2

tsp

Cinnamon

1

tsp

All Spice

2

tbsp

Chia Seeds

3/4

cup

Dates

1

cup

Oats

1/4

cup

Coconut Shreds

optional
Instructions
Put all ingredients except for oats and coconut shreds in a food processor

Blend until dates are completely chopped and you have sticky mixture

In a large bowl mix the oats and coconut shreds into the mixture

Place mix in the fridge for at least 30 min

Remove from fridge. Use a spoon to form the mixture into small balls

Store in the fridge for two weeks.