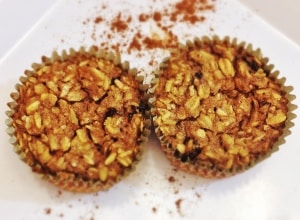 Happy Thanksgiving!! Well, tomorrow that is! I'm so thankful for all of you who follow my blog, Instagram, Twitter and Facebook! Also giving thanks to my family, friends and all that the big man above has done in my life the past couple of months. I'm  grateful I have a supportive network of people who are always willing to try out my recipes even if they're not plant-based eaters. 🙂
I will be making this recipe for breakfast tomorrow morning. It's a healthy breakfast that will keep you full to prevent snacking before the big meal later in the day. You'll also be getting lots of antioxidants. The cinnamon will help you stay relaxed, which is good especially if you have a day of cooking ahead! The raisins and banana will give you energy to breeze through it! They taste so good you don't feel like you're eating healthy. This recipe serves one so double, triple, quadruple if you need more!
P.S. Here are some last minute recipe ideas for Thanksgiving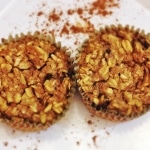 Print
Cinnamon Oatmeal Raisin Muffins
Please use all organic ingredients when possible!
Instructions
Preheat oven to 375

Soak Oats in Almond Milk (enough to cover the oats) for 10 min

In a large bowl pour in the oats and most of the Almond Milk that has soaked up (see pic above)

Mix oats with mashed banana

Add in the rest of the ingredients except raisins and mix

Then add raisins (I measured out 1/4 cup and then tore those raisins apart to make smaller and more throughout muffins)

Scoop into muffin holders in a muffin tin

Bake for 20-25 minutes - Test middle before taking out

Enjoy!