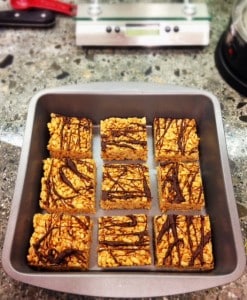 Most children love Rice Krispy Treats! I grew up eating them, but now that I know the chemicals and additives used, no way will I do that again! Things like corn syrup, artificial flavors and more… No Thanks! Rice Krispy cereal alone contains an ingredient that is banned in nearly every other country, but the US.

These are delicious and unprocessed! It's one of the easiest treats to make for kids, parties or just because you want one! They don't taste like a "healthy" dessert at all, but they are indeed! I recently took them to a dinner party and people couldn't believe how good they tasted even without marshmallows! You can make these with or without the chocolate drizzle.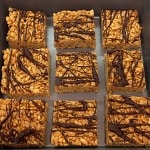 Print
CHOCOLATE DRIZZLED RICE CRISPY TREATS (VEGAN)
Please use all organic ingredients when possible!
Ingredients
4

cups

Brown Rice Crisps

I use Whole Foods 365 brand

2/3

cup

Brown Rice Syrup

1/4

cup

Coconut Oil

1

tsp

Cinnamon

1

tsp

Vanilla Extract

1/8

tsp

Sea Salt

1/2

cup

Vegan Chocolate Chips

I use Enjoy Life brand at Whole Foods
Instructions
First heat rice syrup and coconut oil in a saucepan and bring to boil for one minute.

Remove from heat and stir in cinnamon, vanilla and salt.

In a large mixing bowl add the rice crisps cereal. Then pour rice syrup/oil mixture over cereal and coat all of it well.

In a 9x9 pan lined with parchment paper add the coated cereal. Use another piece of parchment paper and press the mixture down firmly.

Melt chocolate chips and use a spoon to drizzle over rice crisps. This doesn't have to be perfect. As you can see from my pic above some big globs of chocolate fell, but when you cut them they'll look pretty.

Put in the freezer for 35-40. Then remove and cut.

Serve at room temperature. Store them in the fridge in an airtight container.