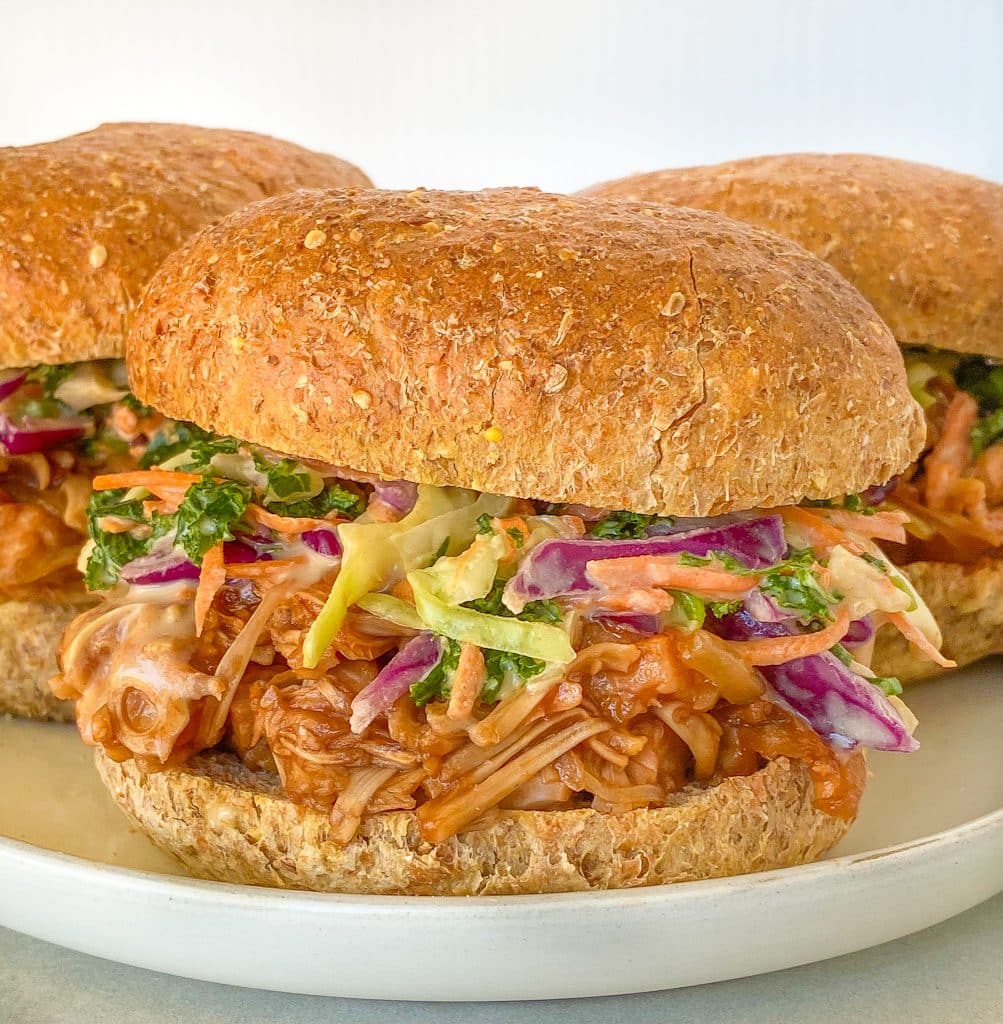 These BBQ Jackfruit Sandwiches are a healthier alternative to a pulled pork sandwich! The texture is identical and the flavor is always in the sauce! 
If you haven't tried jackfruit yet I highly recommend bookmarking this recipe and making it ASAP!!
A poll that came out at the beginning of 2020 said that nearly one in four people have cut back on eating meat.
Not only can this help improve your health but also the environment, and it's better for the animals.
Jackfruit makes a healthy alternative to meat and resembles the texture of pork. That's exactly what these Jackfruit BBQ sandwiches will remind you of and the best part is there's no cholesterol or unhealthy fat that comes with it!
What exactly is jackfruit
Jackfruit is a fruit and a member of the fig family. It usually grows in tropical areas of Southeast Asia, Africa and Brazil.
It has a pretty neutral taste and is similar to tofu, in that it will take on whatever flavor it's seasoned with.
The texture is probably what shocks people the most as it is very similar to chicken or pork, and that's why it makes a fantastic meat replacement.
It's lower in calories, sodium and, as I mentioned before, there's no cholesterol or saturated fat. It also contains fiber, which is a nutrient a lot of meat eaters lack since animal protein contains zero fiber. This is definitely a heart healthy choice!
Tips for this recipe
For this recipe, I used canned jackfruit because it's easier to use, but fresh also works if you find it.  I found this jackfruit in the canned fruit aisle at the grocery store.
Store-bought or homemade BBQ sauce will work for this recipe. If you're using store-bought make sure to read the ingredient labels. Some sauces use animal products in them, but a lot of them don't. For this recipe, I used store-bought. This way, it saves you even more time!
These sandwiches are delicious with slaw and/or pickled onions.
For the buns, I used Food For Life Baking Ezekiel buns. Those are my go-to's as they're made with simple ingredients and not filled with additives and preservatives.
This recipe is a hit, even with meat eaters. I've had a lot of friends and family try it out and it's been given two thumbs up all around.
If you know of someone trying to cut back on meat, or someone who should because of health issues, share this recipe with them!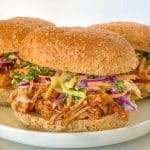 Print
Jackfruit BBQ Sandwiches
These BBQ Jackfruit Sandwiches are a healthier alternative to a BBQ pulled pork sandwich. The texture is identical and the flavor is always in the sauce! 
Ingredients
2 (14 oz)

cans

Young Jackfruit

(rinsed, drained, shredded)

1

small

Yellow Onion

(white or red will work too)

1

cup

BBQ Sauce

(more to add on sandwich)

4-5

Buns
Toppings (optional)
Coleslaw

Pickles

Pickled Onions
Instructions
Preheat oven to 375F. Drain and rinse jackfruit. Then use your hands or a fork to shred the jackfruit similar to pulled pork. In a skillet over medium heat, sauté the onion for about 3-4 minutes until it's translucent. Then, add the jackfruit and bbq sauce in, mix together and sauté for another 2-3 minutes.

Transfer the bbq jackfruit to a baking sheet lined with parchment paper. Make sure it's evenly spread. If your skillet is oven-friendly, it can be left in there. Put in the oven for 20 minutes. Once it's done, remove from oven and build your sandwich. You can add more BBQ sauce after if you'd like. Top it with slaw, pickled onions or other toppings you like. Enjoy!