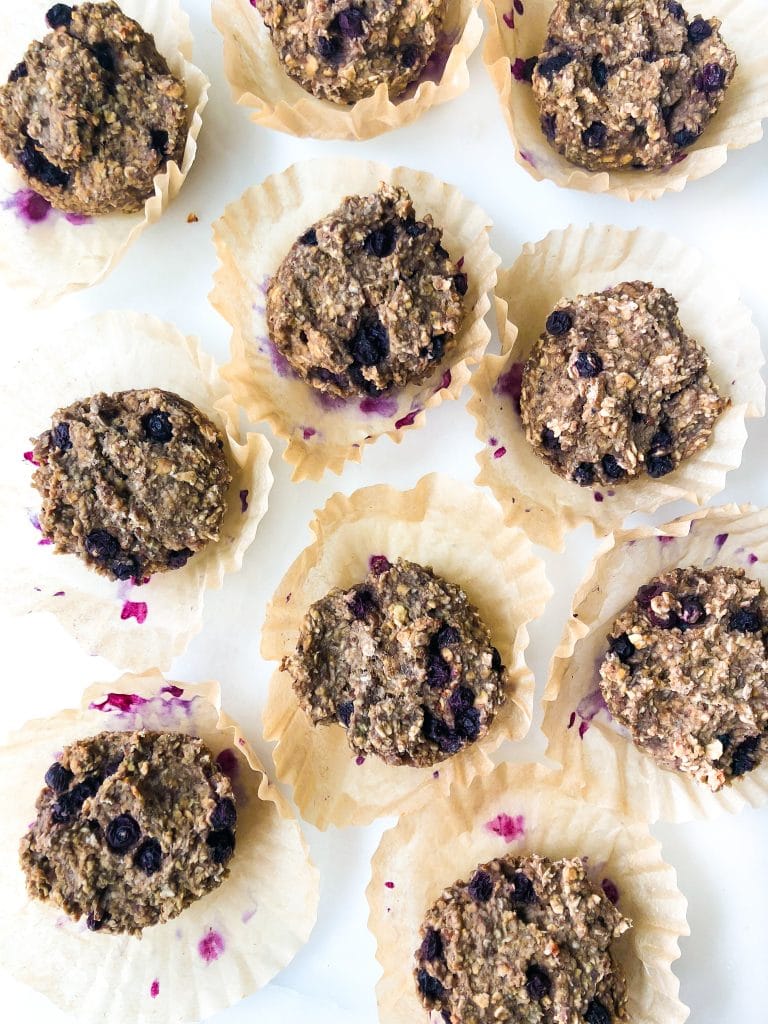 Blueberry Oat Muffins that are perfect for kids or adults. They are flour-less, dairy-free and only sweetened with fruit! It's a great recipe for meal prepping as they can be stored in the fridge or freezer.
Make a batch, or a couple, to be stocked up on a quick healthy breakfast or snack. Plant-based muffins that are also great for busy people because they're easy to eat on the go.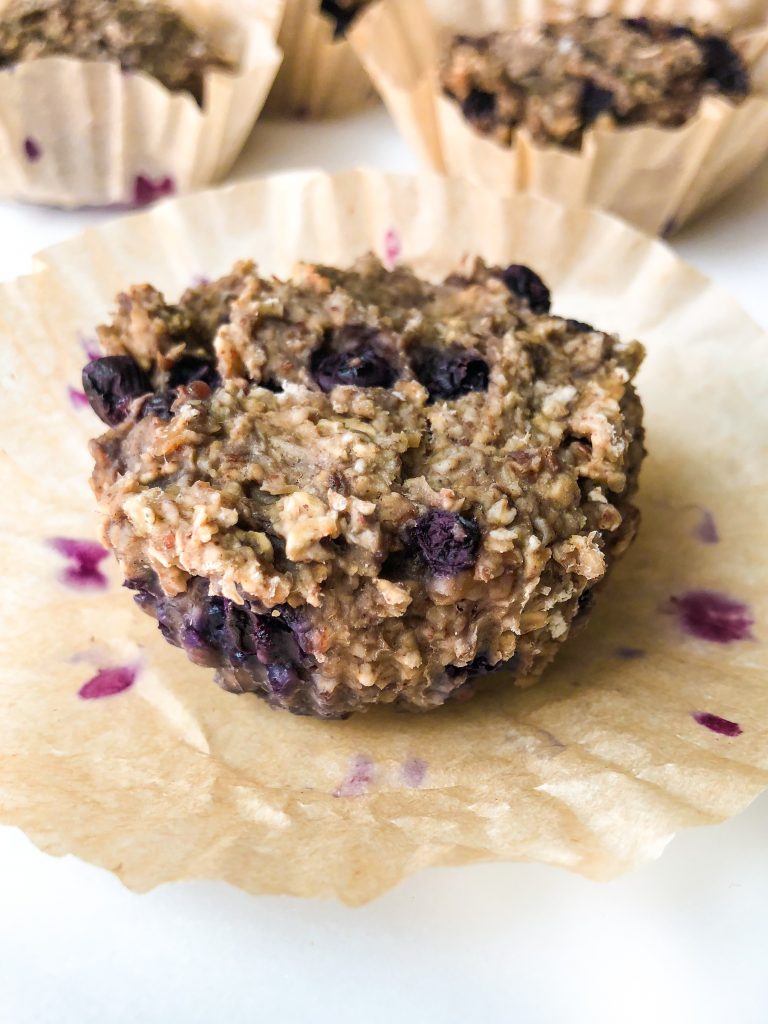 My son is a year and half right now, and he LOVES these muffins. It's actually the first type of baked food that my son has eaten as we are choosing to wait on introducing wheat products to him until his digestive system is more developed.
The muffins are soft so I can give him one without worrying that he is going to seriously choke. He is still learning what "small bites" means.. ha!
So if you're a parent in that same boat, flourless muffins would be a good option. The recipe can also be adjusted to make them even softer.  See in the recipe notes.
You can also make them smaller for those little hands. Just don't fill the baking cup all the way to the top. They do not rise much at all.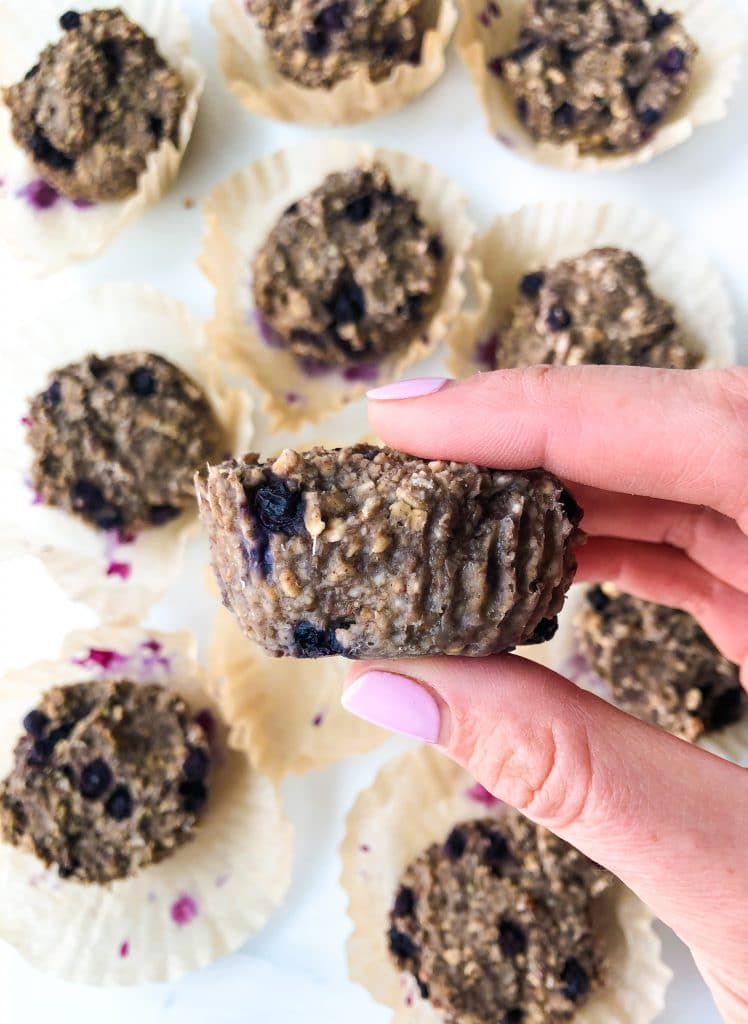 I like to use organic quick oats to make these, but rolled oats will also work. They can easily be made gluten-free by using gluten-free oats.
There's no added sugar in this recipe. The sweetness comes from the bananas so the riper the banana the better. It makes them sweeter, and it's also much easier to mash them.
They can be stored in the fridge for about a week and in the freezer for even longer. I hope you enjoy them as much as we do! Please share this with any parent or busy person that might like them!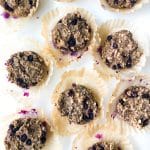 Print
Flourless Blueberry Muffins
Please use organic ingredients when possible!
Ingredients
2

cups

Oats

(quick or rolled oats, gluten-free if needed)

3

Ripe Bananas

(the riper, the better)

2

tbsp

Ground Flaxseed

(to make flax egg)

6

tbsp

Water

(to mix with ground flaxseed)

1/2

tsp

Vanilla Extract

1/2

tsp

Cinnamon

1/2

tsp

Baking Soda

3/4

cup

Frozen Blueberries

(I like a lot of berries, you can use 2/3 cups if you prefer)

1/4

cup

Water*

(to mix in the batter)
Instructions
First, make your flax egg by combining the ground flaxseed and 6 tablespoons of water in a small bowl. Set aside while you get everything else ready.

Preheat the oven to 350. Line a muffin pan with 12 baking cups. I like to use these baking cups.

In a large bowl, mash the bananas with a fork really well. Add the vanilla extract to the banana mixture and stir it together.

Add the other ingredients (except the blueberries) to the bowl including the flax egg. Stir until everything is well combined.

Add the blueberries by folding them into the batter. Then evenly scoop out the batter into the 12 baking cups. Bake for 25 minutes.

Once they are done baking, allow them to cool for 20 minutes before serving. Store in a glass container in the fridge for up to a week, or the freezer for evening longer.
Notes
*If these are going to be for a baby or toddler that's just getting use to eating thicker foods I suggest using 1/2 cup of water in the batter rather than 1/4 cup. This will make them a lot softer and easier for them to chew. 
Make them gluten-free by using gluten-free oats. 
I prefer to use frozen wild blueberries because they are smaller for my son. Fresh should work just fine. You can also sub for another berry like raspberries or goji berries. 
These muffins do not rise a lot. I fill the cup 3/4 of the ways.