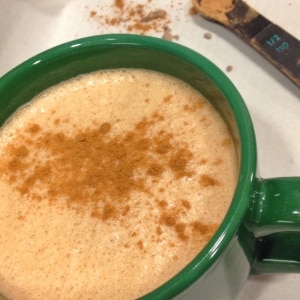 This Rooibos Cacao Latte has a smooth, calming effect with a chocolate flavor from the cacao used.  Rooibos tea is becoming more popular because of the high levels of antioxidants. One of my goals for 2015 is to come up with even more delicious recipes that are packed with antioxidants and this is a good one using Numi Rooibos Chai
.

I didn't like tea growing up, but a few years ago I started making myself drink it because of all the good benefits. This past year I finally figured out ways to make tea so good I didn't cringe when drinking it and now I drink it all the time. This Rooibos Cacao latte  has a smooth cocoa like taste that makes me go "mmmm" after each sip. It's been a nightly ritual for me the past couple of weeks and I know it's one thing that has kept me healthy this holiday season.
Not only does it have calming properties that helps reduce stress and makes you feel relaxed, but it gives your immune system a boost. It protects healthy cells in our body from damaging free radicals, which helps fight against cancer and other diseases. That alone will keep me drinking this, but the fact it tastes so good helps the most. Cheers to 2015 and all the blessings it's going to bring! 
P.S. If you're wanting to detox from the Holidays be sure to check out my new eBook!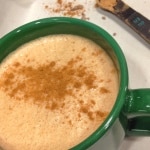 Print
ROOIBOS CACAO LATTE
Please use all organic ingredients when possible!
Ingredients
1

bag of Rooibos Tea

1

tsp

Cacao Powder

1

cup

of hot water

Splash of almond milk

Sweetener of choice
Instructions
Boil 1 cup of hot water and let rooibos tea bag steep

Add in cacao powder, sweetener and splash of almond milk (more if needed)

Mix together, sit back and enjoy
MORE BENEFITS OF THIS RECIPE:
Anti-inflammatory properties

Assists in reducing cholesterol and blood pressure

It is mineral dense containing Calcium, Magnesium, Zinc and Iron 

Caffeine Free

Helps improve skin issues when applied directly to skin. Brew tea and let cool. Then apply to face as a toner.