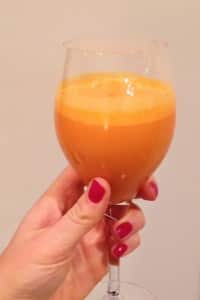 Merry Christmas Eve! Getting ready for Santa to come visit tonight by making a batch of Goji Milk! I'll be leaving this out for the man in the red suit tonight to give him a boost in antioxidants for his late night! That's if I don't drink it all first 🙂  This Goji Milk is not only tasty and simple to make, but packed with lots of health benefits. Goji Berries are loaded with antioxidants that will boost your immune system and keep your body functioning optimally. It's also a good source of Vitamin D!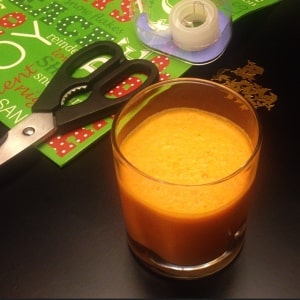 I'm enjoying some while I wrap up some last minute Christmas gifts and giving my health a boost for the big day tomorrow! The recipe below serves one, but you can easily double it to make more!
I also shared some with my niece and she loved it! It's a fun way to get some important nutrition in kids because they won't even realize its milk. The goji berries turn it an orange color that makes it unrecognizable! Goji Berries will also help you sleep better at night so when Santa is done delivering all the gifts and returns to the North Pole he will be sure to sleep sound! Merry Christmas All!
Print
Goji Shake
Please use all organic ingredients when possible!
Instructions
Blend Everything in the blender until creamy.