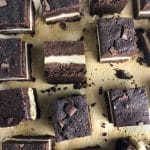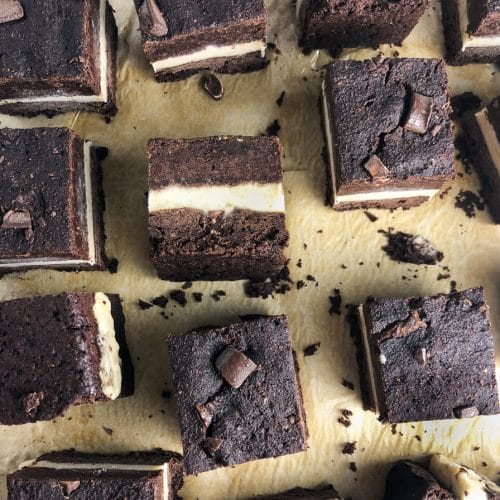 Print
Brownie Nice Cream Cake Bites
Please use all organic ingredients when possible!
Nice Cream
First, freeze your bananas either overnight or for at least 3 hours. Make sure to peel them before freezing and either put them in a freezer safe bag or just on a pan lined with parchment paper.

Once bananas are frozen, add all the ingredients to a high speed blender or food processor. Blend until smooth and creamy.
Brownie Ice Cream Cake Bites
Leave one of the brownie batches in the pan. Using a spatula, evenly spread the nice cream over the top of the brownie.

Carefully place the other brownie batch on top of the nice cream.

Place in freezer for at least 2 to 3 hours, or overnight.

Once the cake is frozen together, cut into brownie bites. You will need a sharp knife to cut.

Store them in the freezer. Serve when ready to eat as they will melt.
Read the blog post for more tips and details on making this dessert. 
A food processor or high speed blender works best for the nice cream. A splash of non-dairy milk might be needed to help the nice cream blend better. Water would work, too. 
If the nice cream is too creamy, let it sit in the freezer for 15-20 minutes to firm up just a bit. You don't want it too frozen or too creamy because it will be hard to assemble.