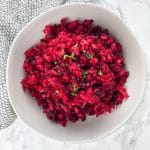 Print
4 Ingredient Raw Beet Salad
This 4-Ingredient beet salad is the simplest beet recipe. It's quick, easy, not messy and tastes delicious! Vegan, gluten-free and refined sugar-free. Buy organic when possible!
Wash and peel your beet. Wash the apples. I did not peel the apples I used, but you can if you'd like. Then, cut the beet and the apples into fourths and place in the food processor. Pulse until you get a shredded

Transfer the beets and apples to a large bowl. Add the juice of the lemon, olive oil and salt (if using) to the bowl and mix well. Let sit for 5-10 minutes to allow the flavors to absorb. Taste it and adjust any of the seasonings. Serve as is or on a bed of lettuce. Store in the refrigerator in an air-tight container for 2-3 days.
If you do not have a food processor, you can use a grater.
If you don't want to risk your fingers getting stained, make sure to wear gloves.