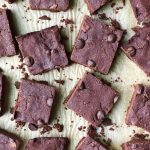 Print
Any Bean Vegan Brownies
Read the blog post for info on beans, nut butters and sweeteners that can be used in this recipe. Please use all organic ingredients when possible.
Preheat oven to 350.

Drain and rinse beans. Place them in the food processor and blend until they've all broken up.

Add the date sugar, cacao powder, nut butter, ground flax, vanilla and blend that together.

Then add in the vinegar and baking soda, blend until everything is combined really well.

Lastly, add in the dark chocolate chip and just pulse until they've mixed around.

Line a 9x9 pan with parchment paper. Pour the brownie mix in. This brownie mix is thick and sticks together. You will need to use your hands or another sheet of parchment paper to flatten it out in the pan.

Place brownies in the oven and cook for 30 minutes. Allow them to cool before serving. Store in an air-tight container for 5-7 days.