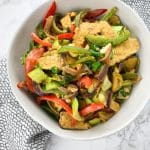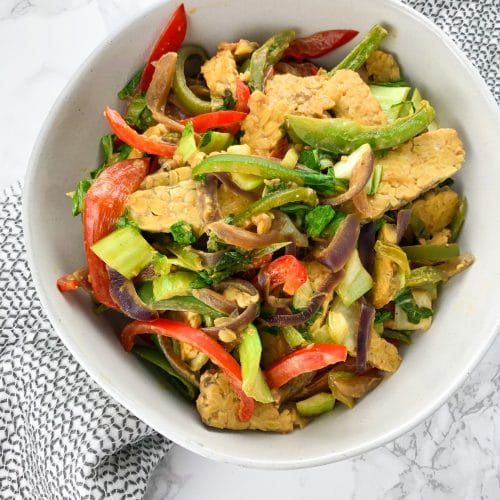 Print
Tempeh Stir-Fry with Oil-Free Pineapple Peanut Sauce
This healthy stir-fry with an oil-free peanut sauce makes a hearty dinner in under 30 minutes! Customize it with veggies you like. The sauce can also be used for salad dressing, dipping sauce and more.
Stir-Fry
1

Onion

1/2

Red Pepper

(chopped)

1/2

Green Pepper

(chopped)

1

bunch

Bok Choy

8

oz

Tempeh
In a food processor or mixing bowl, add all the ingredients for the peanut sauce. If you are not using a food processor you will need to mince the garlic and ginger. If you are using the food processor you can just throw them in. Process or mix everything together until you have a creamy sauce.

Slice or cube the tempeh and add it to the sauce, letting it marinate while you get your vegetables for the stir-fry ready. Heat a large skillet over medium heat. Carefully add the tempeh to the skillet, but leave most of the sauce in the bowl for later use. Cook tempeh for about 3-4 minutes, until each side is brown. If they happen to stick to the pan, add splashes of water to help loosen. Once they have cooked, remove them from the pan and set aside.

In the same skillet, add either a few splashes of water or veggie broth before sautéing the vegetables. Add in the onions and rest of the vegetables except for the bok choy, or whatever greens you might be using. Saute the vegetables until they are tender, about 5 minutes. Then add in the bok choy or greens and sauté until they have started to wilt, about another 3-4 minutes.

Then add the tempeh back to the skillet with the vegetables and pour the Peanut Pineapple sauce in. I pour about 3/4 of the sauce and leave the rest to top on bowls individually at the end. Feel free to use as much sauce as you want. If you're pairing the stir-fry with noodles, quinoa or rice, either add that in now or serve stir-fry on top.

Serve warm. Left overs can be stored in the refrigerator in an air-tight container up to 4-5 days.