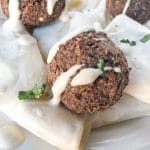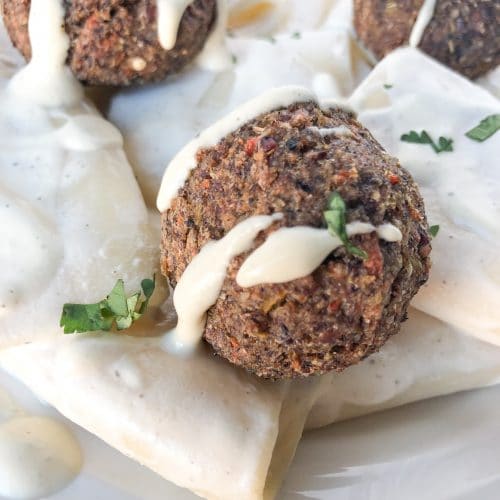 Print
Vegan Mushroom Meatballs
These Mushroom Meatballs are a great meatless option, full of flavor and plant protein. The prep work is easy and then they bake in the oven. This recipe makes 14-16 balls depending on how big you roll them. They can easily be stored in the freezer for later. Please use all organic ingredients when possible.
While that's in the oven, cook your quinoa by adding it and the water to a saucepan over high heat on the stove. Bring it to a boil and the reduce the heat to simmer and cover. Cook for 15 minutes and remove from heat. Uncover quinoa and fluff with a fork. (You can also cook it per package instructions.)

When the veggies are done roasting, allow them to cool somewhat. You're going to add the veggies, garlic cloves and quinoa to the food processor along with the basil, oregano, salt, pepper. Blend it well until a hearty mixture is formed. You really want to make sure it's blended well to stick together.

Then, scoop out and form balls. I used a heaping tablespoon (making almost two tbsp) of the mixture per ball. Place them on the baking sheet with parchment paper and put them back in the oven. Bake for a total of 30 minutes, flipping after 15 minutes.

Serve immediately or store in the fridge for later. They last about 2-3 days in the fridge. Store in the freezer for even longer. Then, reheat in the oven or airfryer.