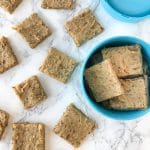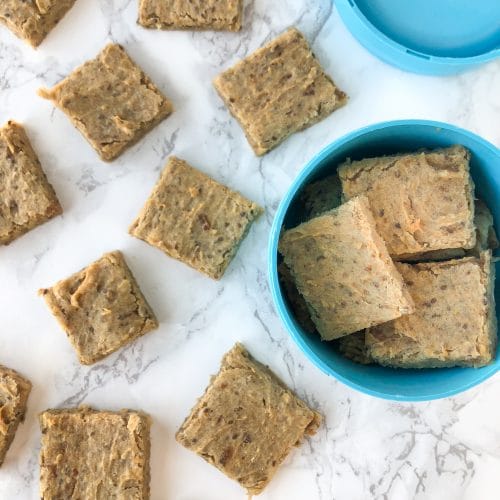 Print
Beanie Bites for Kids
This four ingredient snack recipe is perfect for little ones. It's filled with plant protein, healthy fats and fiber - plus it tastes yummy! Check the notes section for adjustments. Please use all organic ingredients when possible!
1

can

Garbanzo Beans

(any other bean will work too!)

5-7

Dates

(pitted)

2

tbsp

Chia Seeds

(for a Chia Eggs)

6

tbsp

Water

(to mix with the chia seeds)

4

tbsp

Peanut Butter

(or any other nut or seed butter)
Preheat the oven to 350F. Then make your chia eggs. In a small bowl, combine 2 tablespoons of chia seeds with 6 tablespoons of water. Set aside.

In a food processor blend the dates until they make a dough texture. Then add the garbanzo beans and blend with the dates.

Add in the chia eggs and peanut butter to the mixture. Blend until everything is mixed together well. You might need to take a spatula and scrape down the sides and blend again.

Transfer the batter to a baking sheet lined with parchment paper. You can make them like cookies or flatten dough to cut after baking.

Put in the oven and bake for 25 minutes. When you take it out of the oven, allow it to cool for at least 20 minutes before cutting or touching. It needs to firm up.

Store in the refrigerator for up to 5 days in an air tight container. They can be stored in the freezer for even longer.
Please make sure that your child is not allergic to any of the ingredients you use before making them.
If your dates are more on the firm side and not soft, soak them in warm water for at least 20 minutes before making the recipe. 
These are not super sweet, but sweet enough for my son because he has never had refined sugar. Taste the batter before baking and if you want it sweeter add more dates. 
Any bean can be used for this, but you might have to adjust the sweetness.
Other nut or seed butters can be used. Cashew Butter is also one of my son's favorites. 
I have not made these using a liquid sweetener like maple syrup. It will change the texture and might make it too mushy. If you try it let me know in the comments below.