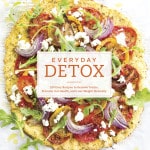 Print
Detoxinista's Quinoa Mushroom Burgers
Please use all organic ingredients when possible!
8

ounces

mushrooms

sliced

2

carrots

chopped

3

celery stalks

chopped

½

cup

quinoa

1

cup

water

1

teaspoon

coconut oil

½

yellow onion

chopped

2

cloves

garlic

minced

1

teaspoon

ground cumin

1

teaspoon

chili powder

1

teaspoon

sea salt
Preheat the oven to 350ºF and line a large rimmed baking sheet with parchment paper.

Arrange the mushrooms, carrots, and celery in a single layer on the lined baking sheet and place in the oven to dry-roast for 30 minutes.

In the meantime, place the quinoa in a small saucepan and cover with the water. Bring to a boil, then cover, lower the heat, and cook for ı5 minutes, until all of the water has been absorbed. Remove from the heat and set aside.

Melt the coconut oil in a skillet over medium heat and sauté the onion and garlic until tender, 8 to ı0 minutes.

Transfer the cooked onion and garlic, roasted vegetables, and cooked quinoa to a large food processor fitted with an "S" blade. Add the cumin, chili powder, and salt and process until a uniform mixture is created. It should be sticky enough to easily form burger patties. When in doubt, err on the side of overprocessing this mixture, as it needs to be very sticky in order to not fall apart when baked.

Divide the mixture into 4 servings (about ½ cup each) and use your hands to shape patties that are ½ inch thick. Arrange them on the lined baking sheet and bake for 30 minutes. Remove from the oven and use a spatula to carefully flip them over (they will be delicate) and then return to the oven to bake for an additional ı5 minutes. The burgers are done when the outside is crisp, but the inside is still tender. Serve warm.