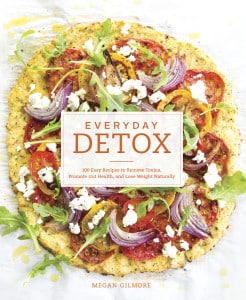 If you saw the delicious burger recipe I posted last week then you know it's from Megan Gilmore's new cookbook, Everyday Detox
. Her blog, the Detoxinista.com, is one of my favorite recipe blogs and Megan herself inspires me so much. I'm lucky to call her a friend and wanted to share more about her with you.  Here are 15 food-related things to know about the Detoxinista.
One food that you used to eat that you'll never eat again?
Anything from McDonalds. I grew up eating a super-sized value meal from there nearly every day.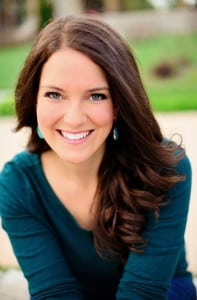 Favorite food to eat to help detox?
Big leafy green salads. I love how you can dress a salad to accommodate any flavors and textures you may be craving! 
What is your go-to snack?
Raw carrot sticks or cauliflower florets dipped in a creamy dressing, like the Hemp Seed Ranch in my cookbook (page 76).
A high-speed blender, like the Vitamix. It's the only kitchen appliance I use multiple times a day! 
What's the worst misconception people have about detoxing?
A lot of people think you have to give up everything you love when you detox. That's not the case! 
If you were stuck on an island, what is the one food you would want there?
If I had to pick just one, I'd go with young Thai coconuts, since I could enjoy their electrolyte-rich water along with the filling coconut meat. 
When you have a cheat day (because we all do), what's your favorite indulgence?
I love the huge peanut butter cookies from Stella Barra Pizzeria here in Hollywood, and the truffle burger from Umami. Though, I try not to think of them as cheat meals. There's nothing wrong with enjoying some special treats in the context of an overall healthy diet! 
Favorite detoxifying beverage? 
I love starting my day with raw apple cider vinegar or fresh lemon juice in tall glass of water. It's a great way to cleanse the liver first thing in the morning, and can help beat constipation, too. (Even more effectively than coffee!)
Do you prefer vegetables Raw or Cooked?
It depends on the time of the year. Now that it's summer, I'm craving lots of leafy green salads and juices, but in the winter all I want is warm soups and roasted root vegetables! 
What's your favorite healthy sweet treat?
The Almond Butter Freezer Fudge (p. 147) or Peppermint Fudge Bars (p. 166) in the cookbook!
What's one tip that's great for newbies in the kitchen?
Don't get overwhelmed by all of the recipe options– just try one new recipe a week until you find a few favorites that you'll want to repeat each week! 
Do you have one food you eat every day?
I usually eat a salad every day, but the ingredients always change depending on my mood and the season. And most days I eat a few dates, too! 
Biggest kitchen disaster?
While working on this cookbook, I spilled a huge cup of coconut oil in the bottom of my gas oven. I was terrified of starting a grease fire, so I had to halt all of my recipe development, cover my stove in baking soda, and wait for the oven to cool down so I could clean up the huge mess. I'm much more careful when warming up coconut oil now!
What's your favorite recipe in your new cookbook? 
It's hard to pick just one! But I'd probably have to go with the "Beef" & Broccoli, on page 131. It tastes SO much like the traditional take-out version, without the meat or thickeners. My whole family tries to lick the bowl after eating that meal!
How long have you been eating a whole foods diet?
I was introduced to the concept of detoxing and eating whole foods nearly 10 years ago, but it wasn't until the last couple of years that I finally found my groove. For years I struggled with an "all or nothing" mentality, where I was either eating whole foods perfectly, or I wasn't– and when I wasn't on the wagon, I would binge-eat every piece of junk food I could find. I felt like this endless pattern of yo-yo dieting was worse for my health than just eating some "bad" foods in moderation, so it took time and practice for me to find that balance. Now, I eat whole foods most of the time, but I'll still leave room for some treats!
—-
UPDATE: Everyday Detox
 was released June 2nd.
Reprinted with permission from Everyday Detox, by Megan Gilmore, copyright © 2015, published by Ten Speed Press, an imprint of Penguin Random House LLC. Photographs copyright © 2015 by Nicole Franzen.